Principal / Lead Account Executive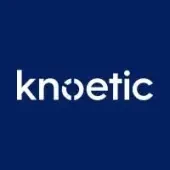 Knoetic
Sales & Business Development
New York, NY, USA · Remote · Fairfax, VA, USA
Posted on Friday, November 10, 2023
The short & sweet summary.
Hello, we're Knoetic (rhymes with "poetic" 😊)! We've raised over $50MM from Accel, EQT Ventures, Menlo, and 100s of angels (like Adam Grant).
Knoetic has a massively ambitious vision to guide every people & HR decision a company will ever make.
We're building a "brain" for Chief People Officers that enables them to build healthy, productive, equitable workforces – and ultimately shapes the future of work. Half of it is a super powerful analytics/data platform (People Analytics). The other half is a social network of C-level executives (CPOHQ).
It seems crazy until you see it in action. By bringing Analytics & CPOHQ together, we give CPOs and their People teams a holistic view of what drives employees to come, stay, and feel valued at work. This is a platform unlike any other.
Here's where you come in!
We're hiring our founding salesperson. You'll be the unstoppable force that closes (and then builds the foundation to close) our next 1000 customers. We'll give you as much opportunity as you can handle. This will be a transformational, career-defining choice for you (and for us!) as Knoetic grows.
Role Overview:
We're hiring a Founding Account Executive (NYC Hybrid) to help our early-stage, mission-driven company grow. We are the world's largest Chief People Officer community and offer a world-class People Analytics solution. Why is this a unique opportunity? You'll:
Report directly to (and sit beside) the founder/CEO in our NYC office.
Have a 90% inbound funnel (and have full control over filling that funnel) and build the foundations of our sales organization
Work closely with our Product and Engineering teams to directly impact our company's trajectory
Develop executive-level selling experience by selling directly to Chief People Officers and Chief Financial Officers

Be more than an AE - this is your opportunity to develop reporting, leadership, and cross-functional skills in ways that traditional AE/Team Lead roles just don't allow for
Requirements:
You have 1-3 years as a top-performing Commercial or Mid-Market SaaS Account Executive.
You have 1-2 years experience as a top-performing Business/Sales Development Representative.
You have a strong foundation in discovery and demo skills and can vision sell into a newer market.
You are gritty, work fast, are detail-oriented, and are excited to take on the opportunity and responsibility of driving revenue.
You have strong business acumen. You understand our main levers and how these drive our key business objectives. (HR tech experience is a plus.)
You have a demonstrated ability to work effectively with technical teams (Product, Engineering, and Design) on the product roadmap, feature-scoping, and launches.
You are fiercely independent and you'll do what it takes to get something done
Nice-to-Haves:
HR Tech or Community experience
Enterprise Sales Experience
What We Offer:
A chance to shape the future of a growing startup.
A high-impact role within a small but high-performing team.
Extremely competitive compensation package with equity options.
A collaborative and open environment where everyone's voice matters.
The key attributes we value in our teammates:
You like to win. You don't want a trophy for effort, you want it for making our customers say "WOW".
Intellectually curious, and intellectually humble. You're not afraid to say, "I don't know - but I'll figure it out, fast".
You never say, "that's not my job" - you take full ownership and responsibility over outcomes. You're a force of nature that gets the job done no matter what it takes.
You make everyone else on the team better. Your presence, positivity, and drive inspire others to step up their game. You put the company above your own wants.
You're known for your work ethic. You pride yourself on being one of the hardest-working person most people know.
You're constantly improving. You know there's no such thing as perfection, and you're always pushing yourself (and our company) to be better than you were yesterday.
You're confident that you are good, and humble to know you can be better: You're honest, principled, smart, open to giving/receiving feedback, and focused on doing right for the company and doing right for the customer